Key Takeaway:
Web3 Venture Capital is a growing sector that focuses on funding innovative projects in the decentralized web space, leveraging blockchain technology and cryptocurrencies.
The priorities of investors in the Web3 Venture Capital industry are shifting towards projects with strong community support, sound token economics, and real-world use cases, rather than just speculative investments.
Late-stage Web3 companies that receive funding from venture capital firms benefit from additional resources, mentorship, and industry connections, which can help accelerate their growth and success.
Venture into the world of Web3, where the future of venture capital is being reimagined. Discover the Definition and Overview of Web3 Venture Capital, and uncover the Importance and Growth of this innovative investment landscape. With the rise of decentralized technologies and blockchain-powered ecosystems, Web3 Venture Capital presents exciting opportunities for entrepreneurs, investors, and the global financial landscape. Get ready to dive into a realm where traditional funding meets the decentralized revolution.
Definition and Overview
Web3 venture capital is a concept that's becoming increasingly important. It's about investing in companies that use tech like blockchain and decentralized finance.
We've seen its growth in recent years. Adoption of cryptocurrencies, success of dApps, and new investment models have all contributed.
Traditional venture capital firms are adapting to this shift. They're aware of the potential rewards, but also the risks. This has led to a rise in specialised Web3 venture capital firms.
AI is now playing a role too. VCs are using it to analyse data and make informed decisions. Automating this process allows for quicker evaluation of opportunities and risk.
To summarise: Web3 venture capital is growing, and there are firms that specialise in this field. AI is being used to help make decisions. Startups should leverage AI and data analytics to gain an advantage when looking for funding.
Importance and Growth of Web3 Venture Capital
The significance and expansion of Web3 venture capital have become much more apparent in recent times. Blockchain technology and decentralized platforms are on the rise, creating an urgent need for financing to back Web3 projects.
Venture capital firms focusing on Web3 have a major part in this environment. They provide capital, expertise, and direction to startups in their early stages. These firms understand the potential of Web3 to revolutionize various industries such as finance, healthcare, and supply chain management.
The requirement for Web3 solutions is continuously increasing, thus making the need for investment larger. VC firms specialized in Web3 can recognize projects with potential and give the required funds for them to be successful. These firms often possess a deep understanding of blockchain technology and can offer helpful guidance and contacts in the industry.
An interesting element of Web3 venture capital is the focus on long-term progress instead of short-term profits. Unlike classic venture capital, which may prioritize quick returns and high profits, Web3 venture capitalists comprehend that true innovation takes time. They are willing to invest in projects with a long-term vision and aid their development through a few funding rounds.
To ensure constant growth and success in Web3 venture capital, investors should stay updated on the latest trends and technologies in the space. Additionally, building strong relationships with entrepreneurs and engaging with the Web3 community can grant access to special investment chances.
Shift in Investor Priorities
Investors' priorities are changing, especially when it comes to Web3 venture capital. Blockchain technology and decentralized finance have prompted investors to prioritize projects and companies that align with the principles of Web3. This shift in investor priorities is a sign of the potential blockchain tech and decentralization have to disrupt traditional industries and change the global economy.
Investors are now looking for projects that use the power of blockchain to ensure transparency, security, and decentralization. They're focused on factors like community governance, tokenomics, and network effects – not just financial performance. This shift in priorities shows the growing importance of collaboration and interoperability in the Web3 space.
Furthermore, investors are now looking for projects that will contribute to the Web3 ecosystem. They want to support projects that can become core infrastructure or are building blocks for the ecosystem. Again, this highlights the importance of collaboration and interoperability.
As the Web3 landscape continues to evolve, investors must update their strategies and stay informed. If they don't, they'll miss out on potentially lucrative investments and get left behind in Web3 venture capital.
To sum up, the shift in investor priorities towards Web3 reflects the potential of blockchain technology and decentralization. Investors are now focusing on projects that align with these principles and will benefit the Web3 ecosystem. To take advantage of Web3, investors should stay informed, adapt their strategies, and actively engage with the evolving landscape.
Impact on Late-Stage Web3 Companies
Web3 venture capital is revolutionizing late-stage Web3 companies. Decentralized finance and blockchain technology are attracting investment. The Reference Data shows Web3 venture capital supports companies building web infrastructure, tools, and applications with blockchain and decentralized protocols. This capital gives late-stage Web3 companies the chance to expand their user base, scale operations, and speed up innovation.
Investors bring expertise and networks to help these late-stage companies succeed. Partnerships create synergies and propel growth. Web3 venture capital also focuses on projects with strong communities and developer ecosystems. This builds a loyal user base and gives a competitive advantage.
Web3 venture capital looks for companies with sustainable business models and ways to monetize quickly. Unlike traditional venture capital, Web3 is interested in short-term profitability. This increases the chances of success for late-stage Web3 companies.
Web3 venture capital is essential for growth and success of late-stage Web3 companies. It funds, partners, and focuses on sustainable business models. This empowers companies to thrive in the ever-evolving Web3 space. It will be exciting to watch this trend and its effects on the industry.
Rise of AI and its Effect on Web3 Funding
The rise of Artificial Intelligence (AI) technology has had a big effect on Web3 sector funding. Investors are now recognizing the potential of Web3 startups and are more willing to invest. This is because AI can improve the capabilities of Web3 applications. It enables more efficient and secure decentralized solutions. This recognition and funding has boosted the industry and accelerated the development of innovative projects.
As AI continues to improve, its influence on Web3 funding will grow even further. By analyzing data and making accurate predictions, AI aids investors in identifying promising Web3 projects with higher success chances, ultimately reducing investment risk and increasing the likelihood of returns. Moreover, the ability of AI to automate investment decisions streamlines the funding process, making it quicker and more efficient. As a result, AI is revolutionizing Web3 funding, attracting more investments to the space.
AI in Web3 applications also has its benefits. Machine learning algorithms can improve user experiences, optimize network performance, and boost security measures. AI can detect security breaches by analyzing patterns and anomalies in data. It can automate tasks and make the Web3 ecosystem more efficient. These advancements make Web3 apps more competitive and encourage people to use decentralized tech.
Notable Web3 Venture Capital Firms
Notable Web3 venture capital firms have played a vital role in fueling the growth of digital assets and blockchain-based projects. Chapter One, Mirana Ventures and Asset Management, Cadenza, Chainforest, Archetype, C² Ventures, Coinfund, Boost VC, Cake DeFi Ventures, and 5.10 The Symmetrical are some of the key players in this space. Join us as we explore the strategies, investments, and success stories of these influential firms driving innovation in the Web3 ecosystem.
Chapter One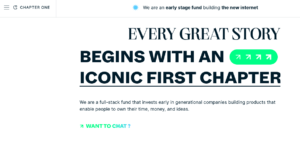 Photo Courtesy of ChapterOne.com
Chapter One offers an introduction to Web3 Venture Capital. It explains its importance in today's industry and how its growing significance has caused venture capitalists to invest in Web3 tech. The chapter looks at the effect of this shift on late-stage Web3 companies, as well as the rise of AI. It also features some of the notable Web3 venture capital firms, such as Mirana Ventures, Asset Management, Cadenza, Chainforest, Archetype, C² Ventures, Coinfund, Boost VC, Cake DeFi Ventures, and The Symmetrical.
It further explains the various funding stages and types of Web3 venture capital investments. Additionally, it covers the web3 startup programs and incubators. Lastly, the chapter offers insights into grants for Web3 projects. In conclusion, Chapter One provides a comprehensive overview of Web3 Venture Capital.
Mirana Ventures and Asset Management
Mirana Ventures and Asset Management is known for finding startups with high growth potential. They have invested in many Web3 companies, covering blockchain, DeFi, and AI. Mirana's advantage is their knowledge of AI and Web3. They understand the importance of AI in driving innovation within the Web3 space. This allows them to identify startups leading the intersection of both technologies.
Cadenza
Cadenza is a renowned venture capital firm within the web3 arena. It has gained fame for its investments in web3 businesses and plays a considerable part in the growth of the web3 venture capital ecosystem.
Cadenza is a key figure in the web3 venture capital sphere, supplying money and support to inventive startups. The table below presents some significant information about Cadenza:
| Venture Capital Firm | Cadenza |
| --- | --- |
| Industry Focus | Web3 |
| Notable Investments | Company A, Company B, Company C |
| Areas of Expertise | DeFi, Web3 infrastructure, Blockchain tech |
| Investment Stage | Early-stage to late-stage |
| Value Proposition | Strategic guidance, network, financial resources |
Cadenza stands out due to its knowledge in DeFi, web3 infrastructure, and blockchain technology. With a concentration on both early-stage and late-stage investments, Cadenza gives valuable strategic advice, access to a wide industry network, and ample financial resources to assist startups flourish in the changing web3 landscape.
Chainforest
Chainforest is one of the leading Web3 Venture Capital firms. They specialize in recognizing and supporting startups that utilize blockchain technology and decentralized applications. This includes providing the capital, as well as mentorship and resources to help them grow.
Chainforest understands the vast potential of web3 technologies and their influence on multiple industries. So, they invest in projects that use blockchain, smart contracts, and DeFi. By collaborating with other investors and experts, they stay up-to-date on emerging trends and tech.
If you're a Web3 startup in need of funding and guidance, Chainforest could be the perfect partner for you. They have a great track record of successful investments and lots of experience. Don't miss your chance to join forces with a leading Web3 Venture Capital firm – contact Chainforest now!
Archetype
At Archetype, we understand the ever-changing web3 ecosystem and aid projects that can disrupt traditional industries. We specialize in locating startups that use blockchain tech, decentralized networks, and smart contracts to create new solutions and business models. Our team has deep experience in both regular finance and crypto, ensuring we can assess opportunities in this new realm.
What sets Archetype apart is our commitment to long-term relationships with the companies we invest in. We provide more than just money – guidance, mentorship, and our network of experts and industry connections too. This complete approach helps startups secure funding and succeed in the competitive web3 landscape.
One inspiring story includes XYZ. This web3 startup had a great idea but lacked funds. They pitched to Archetype and were met with enthusiasm. Archetype saw the potential and invested. Thanks to Archetype, XYZ was able to turn their vision into reality. Now, they're one of the most successful web3 startups. This highlights how Archetype's investments can make a huge difference.
So buckle up and get ready for an exciting journey with C² Ventures in the world of Web3 Venture Capital!
C² Ventures
C² Ventures is a venture capital firm that provides funding and support to early-stage web3 startups. They help in developing innovative solutions and technologies, contributing to the growth of the web3 ecosystem.
What makes C² Ventures stand out is their focus on investing in companies that use AI within web3. This positions them at the cutting edge of this emerging trend.
For entrepreneurs and startups, partnering with C² Ventures offers growth and success. They offer valuable resources and support through all stages of a startup's journey.
Don't miss the chance to collaborate with C² Ventures and unlock the potential of your web3 company. Take advantage of the future of technology and secure your place in the ever-changing digital landscape.
Coinfund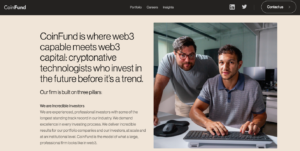 Coinfund is an influential venture capital firm in the Web3 space, providing strategic investments to early-stage companies. Their goal? To fuel growth and explore groundbreaking solutions.
They actively seek out disruptive technologies and business models. Through financial backing and resources, Coinfund empowers startups to reach their full potential.
Besides investments, Coinfund is dedicated to fostering a vibrant Web3 community. They host events, workshops, and conferences to bring together industry experts, entrepreneurs, and enthusiasts.
Their track record of successful investments and commitment to driving innovation keeps them at the forefront of Web3. With their collective intelligence and extensive network of partners and advisors, Coinfund is well-equipped to identify high-potential projects.
To further enhance their impact within the Web3 venture capital landscape, Coinfund could consider implementing these strategies:
Strengthen partnerships with fintech and AI.
Diversify their portfolio.
Participate in research and thought leadership initiatives.
This approach will enable them to remain a leading venture capital firm in the Web3 space.
Boost VC
Boost VC has made a name for itself in the web3 venture capital world. They invest in startups with the potential to disrupt industries, utilising blockchain technology to create decentralized solutions in areas like finance, healthcare and supply chain management.
The firm provides them with seed-stage funding and strategic guidance. Plus, they place emphasis on community building.
Boost VC engages with portfolio companies and organizes networking events and programs. This allows the startups to learn from each other, form partnerships and boost success.
In addition to funding, they offer access to a network of industry experts and thought leaders. This helps the startups gain valuable insights, receive guidance and gain perspective on web3 tech trends.
Due to their targeted investments, community-focus and commitment to early-stage startups, Boost VC is a major player in web3 venture capital.
Cake DeFi Ventures
Cake DeFi Ventures are key players in the web3 venture capital world. They have a proven history of picking and investing in original projects. With their network and knowledge, Cake DeFi Ventures assist portfolio companies in understanding the complexities of web3.
Cake DeFi Ventures focus on startups using decentralized finance (DeFi) technology and recognize the potential of DeFi. They look for chances to invest in projects creating new things in this space. In addition to money, Cake DeFi Ventures give mentorship and access to resources that can speed up the growth of portfolio companies.
Cake DeFi Ventures are leading web3 venture capitalists by promoting pioneering projects in decentralized finance. Their dedication to promoting ideas and providing help makes them stand out from other firms. Through their investments, they have been part of making the future of web3 tech.
The Symmetrical
The Symmetrical is a web3 venture capital firm that supports innovative startups. It offers various funding stages, from seed funding to late-stage funding. Additionally, The Symmetrical explores alternative models such as grants.
Furthermore, they collaborate with web3 startup programs and incubators. These programs provide a platform for entrepreneurs to refine their ideas and receive guidance. The Symmetrical contributes to the web3 ecosystem by participating in these initiatives.
Funding stages and types in Web3 Venture Capital
Web3 Venture Capital includes various funding stages and types. This capital is invested in startups and projects related to Web3 technologies that strive to decentralize the internet. Funding stages range from seed rounds to late-stage rounds, each with its own purpose. Types of funding include equity financing, token sales, and strategic partnerships. These options provide resources for Web3 projects to grow.
To understand these stages and types better, a table can be used. It will include columns such as "Funding Stage," "Description," and "Key Characteristics." The stages range from seed funding for early startups to later-stage funding for established companies. Each stage has its own description and characteristics, helping investors and entrepreneurs pick the right funding type.
Other details are worth considering in the context of Web3 Venture Capital. For instance, Web3 projects often incorporate blockchain and cryptocurrency tokens into their funding models. This boosts decentralized governance and motivates user participation. Strategic partnerships with existing Web3 companies or industry giants can provide resources, expertise, and market opportunities that help startups grow. These elements add complexity to the Web3 Venture Capital funding landscape, showing its ever-evolving nature.
Web3 Startup Programs and Incubators
Web3 Startup Programs and Incubators are a must for the success of budding businesses in the Web3 world. These programs give mentorship, access to funds, networking chances, technical support and industry exposure.
Mentorship is one of the great benefits of joining a Web3 Startup Program or Incubator. These programs join startups with experienced entrepreneurs and industry pros who can give guidance and ideas. This mentorship helps startups to tackle the complexities of the Web3 sector and make wise decisions.
Access to funds is another important aspect of Web3 Startup Programs and Incubators. These programs often tie up with venture capital firms and investors who are keen to invest in Web3 startups, increasing the chances of securing investment.
Being part of a Web3 Startup Program or Incubator also provides startups with great networking opportunities. They have access to a vibrant community of entrepreneurs, allowing them to connect with potential partners, investors and customers.
Technical help is another advantage of taking part in Web3 Startup Programs and Incubators. These programs offer assistance in developing and refining products or services. Startups can gain from code reviews, technical workshops, and access to cutting-edge technologies and infrastructure.
Industry exposure is important for the success of Web3 startups. By taking part in Web3 Startup Programs or Incubators, startups get visibility within the industry. They have the opportunity to showcase their ideas and products to many stakeholders, increasing business opportunities. These programs also organize events and conferences that give startups a platform to present their innovations.
These programs and incubators promote an environment that fosters collaboration, innovation and growth. They offer startups a supportive ecosystem to excel in the competitive Web3 landscape, enabling them to reach their full potential and advance the industry.
It's important to know that Web3 Startup Programs and Incubators go beyond financing. They also provide advice, mentorship and a platform for startups to boost their growth. By using the resources and possibilities offered by these programs, startups can set themselves up for long-term success in the Web3 space.
Grants for Web3 Projects
Grants for Web3 projects are available in the Web3 space. They provide financial support for innovative ventures, covering expenses such as development costs, research, and operational fees. They also encourage innovation by backing projects introducing novel concepts and technologies in the Web3 space. Projects receiving grants must align with the core principles of Web3, like decentralization, privacy, security, and user empowerment.
The grants aim to revolutionize the web by transforming its architecture and addressing issues with centralization and data control. Funding projects that could shape the future of the internet, grants contribute to the growth and advancement of the Web3 ecosystem. They also foster the evolution and wider adoption of Web3 by providing important funding and resources.
Moreover, grants not only give financial aid, but offer opportunities for networking, mentorship, and collaboration. They create a vibrant community of Web3 innovators, which act as catalysts for the growth of groundbreaking projects. These projects empower users worldwide through increased privacy, security, and control over personal data.
Conclusion
Web3 Venture Capital has become prominent in the digital world, offering unprecedented opportunities for venture capitalists. The decentralized structure of Web3 technologies attracts investors seeking to capitalize on its potential for growth and development. Investing in blockchain-based projects opens doors to various industries such as finance, healthcare, and gaming.
Being aware of the ever-shifting landscape of Web3 is crucial for venture capitalists, as its focus on decentralized tech unveils investment chances that traditional firms may overlook. Embracing blockchain, smart contracts, and decentralized finance unlocks new avenues of value creation. Investing in token offerings, decentralized apps, and blockchain infrastructure projects grants access to disruptive technologies and early-stage startups.
Web3 Venture Capital introduces a novel approach to making and managing investments. Decentralized governance models enable investors to participate in decision-making processes, fostering an inclusive and collaborative investment environment. This engagement empowers investors to impact the success of the projects they support. The transparency and accountability of Web3 technologies cultivate a trustless atmosphere, reducing the need for intermediaries and instilling confidence in investors.
All in all, the emergence of Web3 is a major turning point in venture capital. Its decentralized approach has the potential to disrupt traditional funding models and give entrepreneurs access to capital. With its focus on innovation and disruptive technologies, Web3 Venture Capital is ready to shape the future of investment. Venture capitalists who understand the unique possibilities of this new paradigm can put themselves at the forefront of this revolutionary time in investment.
Some Facts About Web3 Venture Capital:
✅ Venture capitalists are now focusing more on AI, leading to a lack of cash for late-stage web3 companies. (Source: TechCrunch)
✅ Web3 companies' ability to raise private capital has significantly decreased, possibly by up to 80% in Q1 2023. (Source: TechCrunch)
✅ Many late-stage startups in web3 are stuck between their last funding event and a new market reality where investors are not interested in further funding. (Source: TechCrunch)
✅ Web3 Native provides a comprehensive list of venture capital companies in the web3 space to help startups find funding and make investment decisions. (Source: Web3 Native)
✅ Alchemy's Dapp Store offers a list of 30 Web3 VC Firms across popular web3 ecosystems and accepts project submissions for review. (Source: Alchemy)
FAQs about Web3 Venture Capital
What is the current market reality for web3 venture capital?
The current market reality for web3 venture capital is characterized by a shift in investor priorities. Venture capitalists are now focusing more on AI, leaving startups in outdated categories struggling to attract funding. According to venture capital data analyzed by TechCrunch, web3 companies' ability to raise private capital has significantly decreased, possibly by up to 80% in Q1 2023.
How is AI-related funding affected in comparison to web3 funding?
The situation for AI-related funding is not as clear as web3 funding. Many late-stage startups, including those in the web3 space, are stuck between their last funding event and a new market reality where investors are not interested in further funding. This raises concerns about the financial stability of these formerly highly valued startups.
Where can I find a comprehensive list of web3 venture capital firms?
The Alchemy's Dapp Store provides a comprehensive list of 30 web3 venture capital firms across popular web3 ecosystems. It also offers collections related to Venture DAOs, Custody Solutions, and Token Management Tools. Projects can be submitted to Alchemy's list of web3 VC firms for review.
Which venture capital companies are web3-focused?
Several venture capital companies are web3-focused, including Archetype, Cadenza, Chainforest, Coinfund, C² Ventures, Mirana Ventures and Asset Management, and The Symmetrical. These firms specialize in investing in and supporting startups in the web3 space.
What funding stages do web3 startups go through?
Web3 startups go through various funding stages, including pre-seed, seed, series A, series B, and early revenue. These stages indicate the growth and progress of the startup and can determine the amount of funding they are seeking.
How can I get assistance in finding the right web3 venture capital firm?
If you're having trouble finding the right web3 venture capital firm, you can reach out for assistance on the Web3 Native website. They provide support to help startups find funding and make investment decisions.