Key takeaway:
Web3 Hackathons are events that bring together programmers, developers, and enthusiasts to collaborate and build decentralized applications using blockchain technology.
Participating in a Web3 Hackathon offers several benefits including the opportunity to learn new skills, network with industry professionals, and gain practical experience in building Web3 projects.
Finding a Web3 Hackathon involves conducting thorough research, searching online platforms, and registering teams to participate in the event. Start early to secure a spot and form a well-rounded team.
Web3 hackathons have become a hotspot for innovation in the tech world. Delving into the world of blockchain, decentralized applications, and smart contracts, these events bring together aspiring developers and experts alike. In this section, we'll explore the definition of a Web3 hackathon and why they hold immense importance in the ever-evolving landscape of digital innovation. Prepare to discover the cutting-edge projects, the collaborative spirit, and the groundbreaking solutions that emerge from these immersive events.
Definition of a Web3 Hackathon
Web3 Hackathons are events where tech lovers come together to collaborate, innovate and create new applications on Web3 technologies. It's a great platform to show off your skills and build solutions with blockchain, smart contracts and other emerging tech.
Benefits of participating in a Web3 Hackathon include:
Expanding knowledge
Networking with professionals
Potentially job opportunities or funding for projects
Winning prizes or bounties
Plus, sponsors may be present offering support and resources.
Finding a Web3 Hackathon is easy – search online or community forums dedicated to hackathons and decentralized tech. Individuals or teams can register once a suitable one is found.
Prepare well before joining. Ideate an innovative project that aligns with the themes or challenges set by organizers. Also, learn relevant programming languages and tools.
A typical Web3 Hackathon follows a coding phase where participants work intensively on their projects within a set time frame. During this period, teams collaborate and utilize their technical skills to build prototypes or proof-of-concepts.
At the end, projects are presented to industry experts. This is a chance to receive feedback, showcase achievements and potentially win prizes. The experience gained is invaluable for anyone looking to further their career in blockchain and decentralized tech.
Web3 Hackathons: A coding competition evolving into a battleground for the future of decentralized technology!
Importance of Web3 Hackathons
Web3 hackathons are incredibly important for the development and innovation of the Web3 ecosystem. They bring talented people with different backgrounds and abilities together to create amazing projects with decentralized technologies. Participating in a web3 hackathon has many benefits for both individuals and the Web3 community.
Firstly, it's a platform to show off skills and creativity, as well as to stay up to date with the latest Web3 trends. You can also learn from others and form connections with other like-minded people.
Furthermore, these hackathons are a great way to come up with innovative solutions to real-world problems. They challenge participants to design and build projects within a short amount of time. This encourages them to think outside the box and come up with creative solutions that could revolutionize industries like finance, healthcare, and supply chain.
In conclusion, web3 hackathons are essential events for technology progress as well as talent growth within the Web3 ecosystem. They provide a great environment for experimentation, collaboration, and learning, and promote innovation that can shape the future of decentralized technologies.
Benefits of Participating in a Web3 Hackathon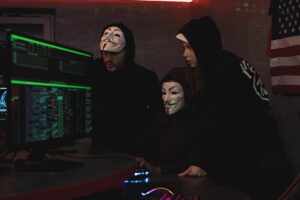 Benefits of taking part in a Web3 Hackathon are plentiful. It's a great platform for participants to flaunt their skills & fresh ideas in the Web3 tech industry!
Learn & Improve Skills: You get a chance to learn about the newest trends & advancements surrounding Web3 & gain useful hands-on experience in building dApps.
Network & Collaborate: Hackathons bring together a variety of backgrounds, enabling valuable idea-exchange & connections with professionals & potential collaborators.
Prizes & Credibility: Attractive rewards are often on offer for winning projects. Plus, recognition at a hackathon can boost your personal & professional credibility.
Develop Projects & Get Feedback: Hackathons create a focused setting to work on a project, plus you'll get meaningful feedback from mentors & judges.
Get to Know Web3 Ecosystem: Joining a web3 hackathon gives you exposure to protocols, tools & frameworks used in the Web3 space.
Moreover, it helps you gain visibility within the Web3 community & attract sponsors/investors. And the competitive & collaborative nature of these events encourages innovation & invention!
An example: A team at a Web3 Hackathon developed a decentralized content-sharing platform that would empower content creators. With guidance from experts, they created a working prototype. Everyone was impressed by the potential of the project & the team got recognition from judges & participants alike. This led to funding & the platform was eventually successful in the market. The hackathon became a turning point for the team's journey, as it provided them with the necessary resources & recognition to bring their vision to life.
Finding a Web3 Hackathon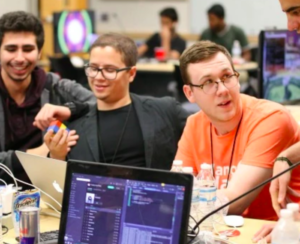 Photo Courtesy of Web3Convention.com
Looking to participate in a Web3 hackathon? Discover the ins and outs of finding the perfect event and learn how to navigate the registration and team formation process with ease. Get ready to dive into the world of Web3 hackathons, where innovation and collaboration take center stage.
Searching for Web3 Hackathons
Searching for web3 hackathons?
Utilize online platforms that specialize in listing hackathon events. Follow social media channels, like Twitter and LinkedIn, to stay up-to-date on web3 hackathon opportunities. Consider factors like location, duration, and themes when searching. Use filters to narrow down your search. Read through the descriptions of each hackathon to understand the goals and requirements. Look out for announcements or updates from organizations and communities involved in the web3 space.
Take Lucy for example. She was an aspiring developer keen to explore blockchain technology over summer. She found a blog post on Medium from a prominent blockchain company. It was advertising an upcoming web3 hackathon focused on decentralized finance applications. Excited by the prospect, Lucy marked her calendar and prepared herself. She reviewed smart contract development concepts and familiarized herself with relevant protocols. Thanks to her proactive approach, Lucy was able to participate and showcase her project at the hackathon. She also gained valuable networking opportunities.
Registration and Team Formation
The key to taking part in a web3 hackathon is to register and create a team. This provides you the chance to show your skills, team up with others, and come up with creative projects in a set period of time. To do this, use this 5-step guide:
Research web3 hackathons: Look for hackathons that fit your interests and availability. Look into online platforms, communities, and social media channels devoted to hackathons as they often give info about upcoming events.
Study registration process: Visit the official website or registration platform to comprehend the requirements. Check out deadlines, eligibility criteria, pre-hackathon tasks, and fees.
Make or join a team: Pick teammates based on individual skills and project objectives. Connect with potential teammates through online forums or attend networking sessions hosted by the hackathon organizers.
Register as a team: Follow the specified procedure for registering as a team on the platform. Give all the necessary info about each team member, including contact details and relevant skills or experience. Agree on project goals and keep in touch throughout the event.
Confirm registration: Submit all the required documentation or complete extra requirements specified by the hackathon organizers. Look out for notifications from the organizers regarding your registration status.
By following the steps, you'll be ready to take part in a web3 hackathon and form a team that can come up with blockchain technology solutions. Bear in mind that each web3 hackathon may have different registration and team formation requirements. Read the official documentation and guidelines given by the hackathon organizers for correct data and details about the event you plan to join.
Preparing for a Web3 Hackathon
Preparing for a Web3 Hackathon involves crucial steps like project ideation, description, and learning essential skills. With a focus on these aspects, participants can unleash their creativity, hone their abilities, and develop innovative solutions within the Web3 ecosystem. By fostering an environment of collaboration and constant learning, participants can leverage the power of emerging technologies and blockchain to create impactful and cutting-edge projects.
Project Ideation and Description
In the ideation and description stage, participants explore how Web3 technologies can solve a problem or bring about an improvement. They consider factors such as usability, scalability, security, and feasibility. Participants also describe their ideas in detail.
They outline the technical requirements and specifications. This includes the programming languages, frameworks, protocols, or APIs they plan to use. Plus, they discuss any potential challenges or limitations.
By focusing on project ideation and description, participants get a clear vision for their project before coding or protocol development. This helps them stay focused during the hackathon and create something that meets their goals.
For example, a team at a Web3 hackathon created a decentralized voting platform on the blockchain. This aimed to stop voter fraud and tampering using smart contracts and cryptography. They described how users would authenticate securely using public-private key cryptography. This impressed judges and other participants. As a result, they won several sponsor awards.
Ready to level up your coding skills? Try web3 hackathons and gain valuable knowledge, as well as show off some cool coding tricks.
Learning and Skill Development
Take part in a Web3 Hackathon and enjoy the chance to work on innovative projects. You can also develop your technical abilities and gain knowledge about web3 tech. Get hands-on coding practice and deepen your understanding of web3 tools, frameworks, and protocols.
Industry experts and mentors will provide guidance and support throughout the event. They'll give workshops and tutorials on blockchain tech, dApps, and smart contracts. Plus, collaborate with team members of different skills and expertise. This creates a learning environment where you can share ideas, learn techniques, and gain problem-solving skills.
Web3 Hackathons also offer bounties and sponsor opportunities. These extra incentives encourage participants to explore areas of interest or tackle challenges. Work towards these bounties or sponsor challenges and expand your knowledge. Apply new concepts and tech to your projects!
So get ready to code at a Web3 Hackathon and brush up on your protocol development skills!
Structure of a Web3 Hackathon
A Web3 Hackathon is all about the structure and organization, consisting of a coding phase and protocol development. It brings together talented individuals from various backgrounds to collaborate and build innovative projects using decentralized technologies.
During the coding phase, participants dedicate their time and skills to create functional prototypes and applications. Simultaneously, the protocol development sub-section focuses on formulating robust frameworks that support secure and scalable decentralized systems. Together, these sub-sections contribute to the dynamic and collaborative environment of a Web3 Hackathon.
Coding Phase
The coding phase of a Web3 hackathon is a key part of the event. Here, participants can show off their coding abilities and create projects that fit the theme.
They must plan and structure their codebase first, setting up data structures and architecture.
Next, they use programming languages, frameworks and libraries to build features and reach project goals.
Testing and debugging is crucial. Participants should identify bugs and fix them quickly.
Throughout the coding phase, they should iterate and refine their projects to improve functionality.
Documenting and version control is also important. They should track changes and explain the logic of their codebase.
Collaborating with team members, communicating progress, and following guidelines are all important too.
These steps help participants make successful projects for Web3 hackathons.
Protocol Development
Protocols are major for Web3 hackathons. These protocols create a basis for decentralized apps and systems. They help with communication in a secure and effective way. During the hackathon, people focus on ideas that make interoperability, scalability, security, and privacy better.
Developers make and optimize protocols like blockchain consensus, smart contracts, decentralized storage, identity management, and more. They have to understand cryptography, distributed computing, and networks. There are also experts and mentors to help out and tools and libraries to help with complex protocols. This is how individuals learn and help with decentralized tech.
Protocol development does not just mean making new protocols. It can also include improving existing ones. It is a continuous process for improvement and growth in the Web3 world. The Ethereum Foundation's Devcon is a conference with protocol development sessions. People from around the world work on Ethereum's technology.
Be sure to attend the Web3 Hackathon—it has bounties and sponsor opportunities!
Separate Bounties and Sponsor Opportunities
Unlock prizes and collaboration opportunities with Separate Bounties and Sponsor Opportunities during the Web3 Hackathon.
These bounties are designed to reward innovative solutions and showcase exceptional skills. Plus, you can connect and collaborate with industry-leading organizations.
Gain insights, build partnerships, and boost your visibility. These opportunities can create a supportive ecosystem, promoting creativity and driving Web3 technologies.
The details vary, but the potential is the same: Showcase your skills to industry professionals and make a real impact in the Web3 space.
Presenting the Project
Introducing the "Presenting the Project" Web3 Hackathon!
This event is all about showcasing creative ideas in the web3 tech world. Participants will present their projects built during the hackathon.
The Web3 Hackathon brings together skilled people and teams who have worked hard to make awesome projects.
They'll present to a panel of judges, industry specialists, and fellow hackers to get feedback and recognition.
The event will highlight how decentralized tech, blockchain, and smart contracts are being used across various domains.
Presentations will show the concept, functionality, and potential effect of the project on industries and communities.
"Presenting the Project" Web3 Hackathon is a great way to see the newest advancements in web3 technology. It emphasizes how decentralized applications, blockchain, and smart contracts can transform industries. Participants will demonstrate their projects' unique features and advantages. Presentations are designed to teach and inspire attendees about the possibilities web3 tech offers for changing existing systems.
Notable Web3 Hackathons in 2023
In 2023, the Web3 ecosystem is abuzz with amazing hackathons. These events offer a chance for developers and tech fans to join forces, share ideas, and show off their talents. One such event is the "Web3 Hackathon". Participants can explore the latest tech, like blockchain, decentralized apps, and smart contracts, to create innovative solutions that could transform sectors. Here, they can talk to industry pros, make connections, and get an idea of what the future holds for Web3.
Blockchain focus: The "Web3 Hackathon" focuses on blockchain. Participants can learn about decentralized finance, non-fungible tokens, and more. These trends are changing digital life.
Collaboration: This hackathon encourages participants to team up and work together. By combining different skills, they can come up with creative projects.
Mentorship: Industry experts offer guidance and feedback at the "Web3 Hackathon". This helps participants tackle challenges and reach their goals.
Plus, the "Web3 Hackathon" has other special elements. Participants can look forward to hands-on sessions, interactive talks, and inspiring debates. It also encourages inclusivity, so everyone can join in the creative atmosphere. With its emphasis on innovation, collaboration, and mentorship, the "Web3 Hackathon" is sure to be truly extraordinary.
Conclusion
The Web3 Hackathon is a platform for developers to demonstrate their innovation and create solutions for the future. It leverages decentralized networks and blockchain tech to make new possibilities reality. This Hackathon is a sign of the dev community's creativity and genius.
The purpose of the Web3 Hackathon is to support collaboration and imagination among developers, and drive decentralized tech adoption. Participants are asked to think outside the box and come up with fresh solutions that can have a real-world impact. It's an environment for experimentation, learning, and development.
The Web3 Hackathon has a special emphasis on community building and knowledge sharing. Participants can work on their own projects, as well as network with peers, industry leaders, and mentors. This open atmosphere encourages idea exchange and encourages collective learning, establishing a vibrant ecosystem of progress and growth.
Some Facts About Web3 Hackathons:
✅ Hackathons are events where web3 developers come together to create functional minimum viable products (MVPs) with the support and resources provided by blockchain protocols, companies, and event producers. (Source: Team Research)
✅ Hackathons offer incentives for projects centered on different tracks such as NFTs, DeFi, Metaverse, and more. (Source: Team Research)
✅ Traditionally, hackathons took place in-person, but due to the COVID-19 pandemic and remote work, many hackathons now allow developers to participate online. (Source: Team Research)
✅ At the end of the hackathon, projects are judged by a panel of web3 influencers, investors, and dApp founders to award cash prizes, grants, and exposure to the best projects. (Source: Team Research)
✅ Hackathons provide opportunities for web3 developers to turn their ideas into actual products, learn new technologies, attend educational events, win financial prizes, and network with investors and industry professionals. (Source: Team Research)
FAQs about Web3 Hackathon
What is a Web3 Hackathon?
A Web3 Hackathon is an event where web3 developers come together to collaborate and create functional minimum viable products (MVPs) using blockchain technologies and protocols. It is a coding marathon where participants work on their hackathon ideas in a short time period, typically 24 to 48 hours, to build projects centered around web3 use cases.
Can I participate in a Web3 Hackathon online?
Yes, due to the COVID-19 pandemic and remote work, many Web3 Hackathons now allow developers to participate online. Online participation provides flexibility to developers from anywhere in the world to contribute to the hackathon without the need to be physically present at the hackathon location.
How can I find a Web3 Hackathon to participate in?
You can find Web3 Hackathons by using search engines like Google or platforms like Gitcoin, ETHGlobal, Solana Hacker House, and others. These platforms regularly host hackathons and provide information on upcoming events, allowing you to sign up and participate in a hackathon of your choice.
What are the learning aspects of participating in a Web3 Hackathon?
Participating in a Web3 Hackathon offers several learning aspects. It provides an opportunity to learn new technologies, tools, and frameworks for web3 development. It also allows you to collaborate with other developers, creators, and founders, expanding your network and knowledge. Additionally, you can learn about the latest trends and best practices in the web3 ecosystem through educational events and workshops organized during the hackathon.
What should I include in my project description for a Web3 Hackathon?
When submitting a project description for a Web3 Hackathon, make sure to include the name and summary of the project, names/pseudonyms of team members, and their contact information. It should also demonstrate the use of specific blockchain technologies like IPFS, Filecoin, or decentralized storage services. Provide example links to where these technologies are used in your project's source code repository. Additionally, include a link to a working demo or provide a testing guide for the judges to review.
What prizes can I win in a Web3 Hackathon?
Prizes in a Web3 Hackathon can vary depending on the event. They may include cash prizes, grants, exposure, or funding opportunities. The prize pool for hackathons can range from thousands to millions of dollars, depending on the scale and sponsors of the hackathon. Winners are usually selected by a panel of web3 influencers, investors, and dApp founders based on the judged criteria.